May 29, 2016
Accountability
The Transformative Agenda (TA) was created in December 2011 by the Inter-Agency Standing Committee (IASC) Principals. The 'TA Protocols' establish the criteria for improved collective action in humanitarian emergencies.
The TA aims to enhance the predictability, accountability, and responsiveness of humanitarian operations - especially for system-wide Level 3 crises. The TA capitalises on partnerships and complementarities across IASC members by reinforcing a collective approach in three areas: leadership, coordination and accountability.
There are ten TA protocols which aim to guide IASC member organisations, Humanitarian Coordinators (HCs) and Humanitarian Country Teams (HCTs).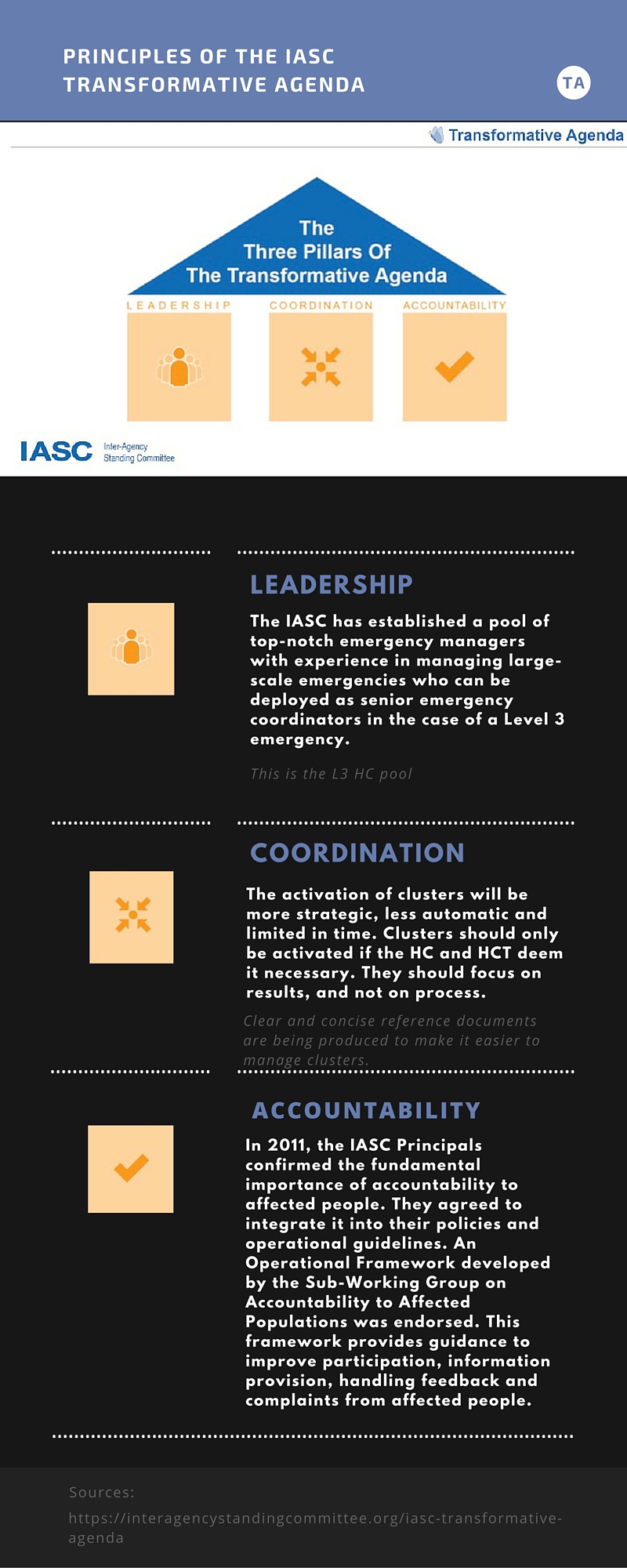 Level 3 Crisis Protocols
The humanitarian system-wide emergency activation protocol outlines the criteria and process for activation and deactivation of a Level 3 crisis by the Emergency Relief Coordinator - in consultation with the IASC Principals. Level 3 activation commits IASC members to system-wide procedures and mobilisation of resources for the first 3 months.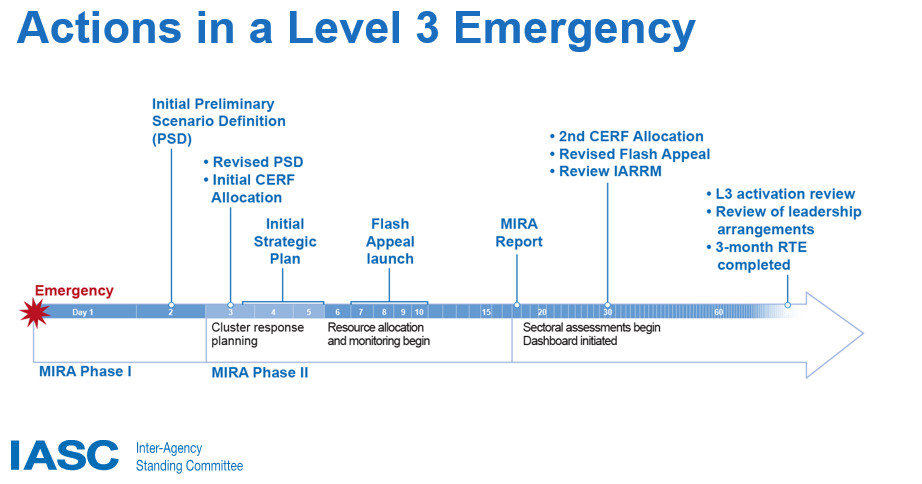 An element of Level 3 activation is the inter-agency rapid response mechanism (IARRM) . The IARRM concept note requires that a core team is immediately deployed on a 'no regrets' basis, together with other context-specific capacities.
The concept paper on Empowered Leadership details how HCs are empowered to set overall priorities, allocate resources, monitor performance and deal with underperformance during the 3 months following declaration of a Level 3 crisis. The paper on 'What Empowered Leadership Looks Like in Practice' clarifies what is meant by the concept of 'empowered leadership.' This includes some of the responsibilities of HCT members, global cluster lead agencies, the Central Emergency Response Fund, (CERF) and IASC members.

"These protocols aim to guide IASC member organisations, Humanitarian Coordinators (HCs) and Humanitarian Country Teams (HCTs) in countries affected by a crisis."
Protocols for all Humanitarian Crises
The Humanitarian Programme Cycle (HPC) is a coordinated series of actions which assist the HC and the HCT to manage and deliver the collective humanitarian response. The reference module contains guidance and tools covering six core elements: emergency response preparedness, needs assessment and analysis, strategic response planning, implementation and monitoring, resource mobilization, as well as Operational Peer Review (OPR) and Evaluation. It also covers the two key enablers of coordination and information management.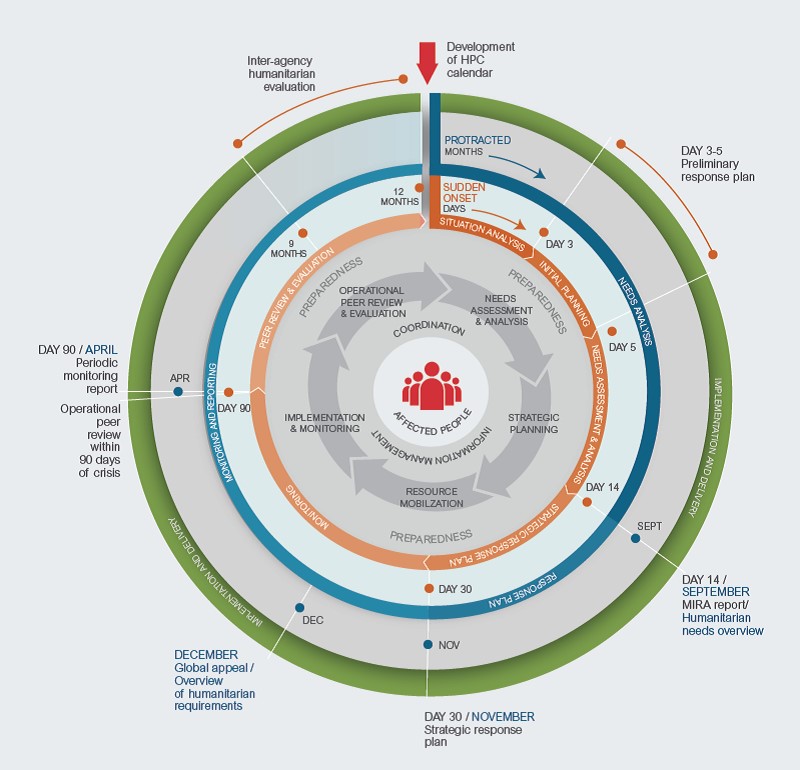 The HPC applies to the cluster coordination system, which was established in 2005 to avoid overlaps and gaps in the response. There are specific protocols which provide more detail on cluster coordination, as well as the methods for ensuring rapid coordinated assessments through the Multi-cluster Initial Rapid Assessmen (MIRA).



The Accountability to Affected People (AAP) Operational Framework is critical to all operations. The AAP framework is set up to ensure that the response is informed by, and adjusted in accordance with the views of the people affected by a crisis.

HCTs and other humanitarian actors can access the Common Framework for Preparedness and the complementary paper on Emergency response preparedness, for guidance on preparedness measures that should be taken during an emergency response.